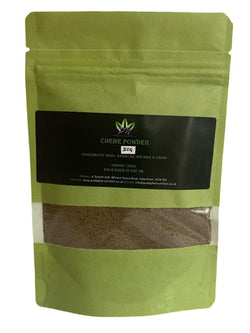 Authentic chebe powder 50 g Traditionally made from Chad Stop Hair Breakage
CHEBE POWDER 50G This Chebe powder contains herbs that coat the hair with nutrients that will keep hair strong. Mix it with any moisturizing and nourishing oil you have and Apply it to your hair strands, But avoid the scalp.
Our chebe powder has been specifically made for us in Chad traditionally with 100% Organic Natural ingredients.

Contains only Native natural herbs and ingredients.

Thickens hair and strengthens it.

Stops breakage thereby enabling easy length retention as our hair grows.

Ingredients : Miski , Mahalab , Clove, Khumra and Chebe ( Lavender croton ).