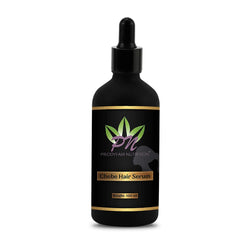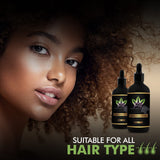 Chebe Hair Growth Oil Serum 100ml with Free Delivery
Product description
Our Chebe Hair oil serum is loaded with lots of hair FOOD INGREDIENTS KNOWN to contain Biotin, Sulphur and other hair growth nutrients . It's like hair growth on steroids! It contains Natural Ingredients: Chebe Infused oil, Flaxseeds, Almond, Black seed (Nigella sativa), Cucumber, Carrot, Coconut milk, coconut oil, Rosemary, Ginger, Onion, Avocado, Lime, Apple cider vinegar, Lemongrass, Curry leaves, Fenugreek seeds, Jojoba leaves, Lemon leaves, Guava leaves, Aloe vera, and parsley! SHAKE WELL before use, May Solidify below 26 degrees Celsius. If it gets SOLID, Just warm it. WHO IS THIS FOR? Anyone with: -thinning hair - weak hair - hair breakage - receding hair - overall hair loss Promotes Thick, Healthy Hair -Nourishes scalp -Creates ideal conditions for hair restoration -Assists in the preservation and strengthening of existing hair and follicles -Prevent hair loss & breakage. SUGGESTED USE: Apply 2-3 Drops to the scalp of the affected area, and very gently massage into scalp. Leave on overnight or minimum 30 minutes for hair oil to fully absorb Before Showering. Apply 3 to 4 times per week
Ingredients
Chebe Infused oil, Flaxseeds, Almond, Black seed (Nigella sativa), Cucumber, Carrot, Coconut milk, coconut oil, Rosemary, Ginger, Onion, Avocado, Lime, Apple cider vinegar, Lemongrass, Curry leaves, Fenugreek seeds, Jojoba leaves, Lemon leaves, Guava leaves, Aloe Vera, and parsley
 Safety Warning
Keep away from the Children , For external use only
Features & details
【THICKER & HEALTHIER HAIR】Our Chebe Hair oil  Growth Serum Made with FOOD INGREDIENTS KNOWN to contain Biotin, Hair growth oil has powerful protects and nourishes hair function. It can reduce hair loss, rejuvenate hair follicles and promote hair growth. Hair becomes thicker, longer and healthier.

【PREMIUM QUALITY INGREDIENTS】Chebe Infused oil, Flaxseeds, Almond, Black seed (Nigella sativa), Cucumber, Carrot, Coconut milk, coconut oil, Rosemary, Ginger, Onion, Avocado, Lime, Apple cider vinegar, Lemongrass, Curry leaves, Fenugreek seeds, Jojoba leaves, Lemon leaves, Guava leaves, Aloe Vera and parsley!

【EASY TO APPLY & GENTLE】Apply 2-3 drops Biotin Chebe Hair Growth Serum to the scalp of the affected area, and very gently massage into scalp. Leave on overnight or minimum 30 minutes for hair oil to fully absorb Before showering. Apply 3 to 4 times per week. Non- parabens, non-gluten, non-sulfates, non-perfume.

【HAIR GROWTH OIL for BOTH MEN & WOMEN】The Chebe hair growth oil works well for both Men and Women. Perfect gift for people with thinning hair, damaged hair, receding hairline and hair loss. With this wonderful biotin hair growth serum, you can finally have a dense and lustrous hair you always wanted!

【ALL- NATURAL INGRIDIENTS】 from fruit and herbs. FOOD INGREDIENTS KNOWN to contain Biotin, Sulphur and other Hair Growth Nutrients, SUPERB FOR REGROWING Edges and bald patches, Apply drops to scalp and massage well. SHAKE WELL before use. This special pricing may not be for long, so click the 'Buy Now' Button!