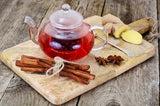 ORGANIC HIBISCUS FLOWER 200 G
About our Organically Grown Hibiscus Flowers:
Hibiscus, also known as Roselle, is of the Hibiscus sabdariffa species. This shrub produces white flowers with dark red calyces at their base. These calyces are harvested and dried to be used in many applications such as food coloring, beauty products and most popularly Hibiscus tea.
This naturally calorie and caffeine free herbal tea produces a floral, tart flavor similar to cranberry, with a beau-tea-ful deep crimson color.
COMES IN KRAFT PAPER 
HIBISCUS - Hibiscuses are shrubs and small trees that produce beautiful, colorful trumpet-shaped flowers. Native to warm climates, they are just one of several species in the Malvaceae family. The plant has virtually no fragrance (some offer a minimal scent). Some common names include wax mallow, mazapan, Turk's cap mallow, and sleeping hibiscus.

A VERSATILE INGREDIENT - Hibiscus cut and sifted flowers are caffeine-free, making them ideal for herbal tea blends. Or mix them with green tea for a soothing, refreshing flavor and aroma. They are tart and colorful, which makes them a nice addition to any cuisine. Hibiscus cut and sifted flowers have also been used in cosmetics and as a dye.

FLAVORFUL AND ROBUST - When the cut and sifted flowers are dried out and soaked in hot water, they deliver a tart flavor with a hint of cranberry-like flavor. Hibiscus flowers enhance the taste of green and black teas with their flavor. Mix them with peppermint, linden leaves or spearmint to add robust, intense flavor to beverages.

INGREDIENTS : 100% NATURAL HIBISCUS FLOWER 
ORGANIC FROM NIGERIA - Priddyfair Nutrition Hibiscus Flowers are hand-picked and sun-dried, and then cut and sifted to provide a flavorful blend for many drinks and foods. Our hibiscus has zero additives, zero chemicals and are non-irradiated.