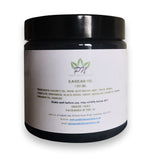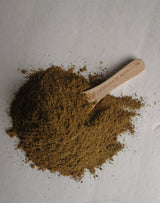 Premium quality Organic Chebe powder 100 g with Karkar oil 120 ml (Free UK Delivery)
Priddyfair Nutrition's Organic Chebe powder is directly from Chad in Africa. Along with the nutrient rich Karkar Oil which the Chad women also use, there is no need to use another oil as this is the perfect combo for your hair growth treatment.
Chebe powder is well known as the secret to the long healthy hair of the bashara women of Chad, it contains many nutrient rich herbs for enhancing the strength of your hair which will then allow one to retain hair growth and length. Ingredients : Miski, Mahalab, colve, Khumra and Chebe
The karkar oil contains organic hair nourishing oils that are known for promoting hair growth and strengthening hair. Ingredients are as follows: 
Coconut oil, neem, rice water, mint, onion, henna, currylive, fenugreek, black seeds, chebe, mahalab, khumfur, ambar, cinnamon oil and gabgab.
Two of these together provide the perfect strategy for your hair growth journey.
Directions: Take 25 grams of the Chebe powder  and mix karkar oil into it till it makes a smooth pourable paste. Then spray the hair with water to get hair wet. Apply the chebe paste mix to hair until hair is fully saturated. Then re-braid the hair and once that braid is done, wet the hair again with water. Repeat that routine every 3 to 5 days. Do not put on the scalp. 


Features & details
Our Chebe has been specifically made for us in Chad along with the hair growth karkar oil.

Our Chebe powder comes with karkar oil a nutrient rich oil containing ingredients known to strengthen and moisturise the hair

Contains only Native, natural herbs and ingredients, Thickens hair and strengthens it and stops breakage thereby enabling easy length retention as our hair grows. For external use only and please DO NOT USE IT ON SCALP.

This 2 In 1 hair beauty and growth treatment comes with a 100 g of authentic chebe powder and 120 ml of karkar oil

PRIDDYFAIR NUTRITION BRAND is known for natural organic premium quality goods and giving our customers utmost value, in fact we're so confident in our products that we even offer a 30 day 100% Money back guarantee.