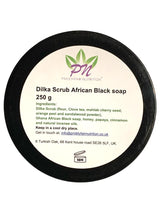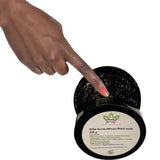 Dilka Scrub Soap Made with Sudanese Dilka scrub, African Black Soap, Raw Honey, incense oils - Gentle Exfoliating Body Scrub & Moisturising Best for Any Face & Skin problems 200g
Dilka – Gently Exfoliating Body Scrub soap 250g
Dilka is a Sudanese body scrub that leaves the body soft and perfumed. It is made by mixing whole-wheat flour, tea made of cloves and mahleb cherry seed, and occasionally orange peel, into soft dough. Women may also add finely ground sandalwood powder or acacia wood powder. Traditionally the dilka dough is wrapped in a cloth and smoked with the dukhan treatment, this gives a nice fragrant scent and it preserves the dilka dough. Women typically use this body scrub at least twice a week. This scrub helps to remove dead skin, promotes blood circulation, and nourishes and re-hydrates the skin. 
Dilka Sudanese bridal scrub is the secret of glowing bridal skin. This treatment is only reserved for sudanese and chadian brides. 
 Our dilka scrub is made for us into a soap directly from sudan and perfect for daily use, leaving you glowing and smelling divine. 
Ingredients are: 
 African black soap, dilka scrub (flour, clove tea, mahleb cherry seed, orange peel, and sandalwood powder), honey, papaya, cinnamon and incense oils.