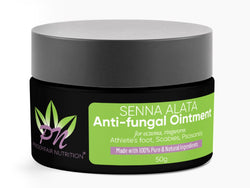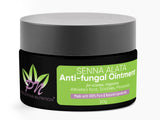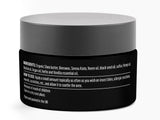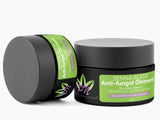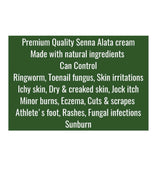 Organic SENNA ALATA Pure Antifungal Ointment for Face & Body, Athletes Foot, Ringworm, Eczema, Dry Skin, Jock Itch, Nail Fungal Infections 50g
Senna leaf : 100% Organic SENNA ALATA Antifungal Ointment for Eczema, Ringworm, Athlete's foot, Scabies, Psosarsis, 50g Use: 2 - 3 times daily
Are you Suffering from scabies, eczema? Tired of using chemical-based cream? Tired of using steroids to manage skin issues like Eczema, Psoriasis, Ringworm, Scabies, and Fungal infections? Worry no more.
Our 100% Organic SENNA ALATA Antifungal Ointment is gentle and safe to use for all ages including babies and small children. Apply a small amount topically as often as you wish on insect bites, allergic reactions, wounds, scratches, etc., and allow it to soothe the area. Senna Alata leaves contain Chrysophanic Acid, a fungicide that is used to treat fungal infections like ringworm, scabies, and eczema, Athlete's foot
Skin diseases, especially scabies and eczema, are very contagious and difficult to remedy. It is one the kind of disease we all want to avoid especially in children. These diseases may develop poor skin appearance & even emit unpleasant skin smells. They are the kind of disease that can limit day-to-day movement because of irritation and shame from friends. In Asia, Malaysia, specifically in Africa, there are some natural herbs that had been widely used to treat the disease. The plant is locally called "Daun Gelenggang" or its synonym is called Senna Alata. It had been used for centuries to handle these specific kinds of skin diseases.

Ingredients:
organic Shea butter, Beeswax, Senna Alata, Neem oil, black seed oil, argan oil, Baobab Oil, sulfur, Hemp oil, Herbs, Tea tree, and Vanilla essential oil.
SAFE & NATURAL - The Antifungal Balm formula is enriched with the purest & finest anti-microbial and antiseptic ingredients including tea tree oil, eucalyptus oil, and lavender oil, making it very gentle yet powerful.
SUITABLE FOR FACE & BODY - Control itching, infection, and inflammation on your face, body feet, toenails, fingernails, hands, and heels while preventing it from spreading to other body parts.
100% Original, 100% Organic, Handmade, and has been widely used traditionally to treat skin disease
Senna Alata Cream Features:
-Gentle & Safe Formula
-For Face & Body
-Intensely Moisturizing
-Controls Itching
-Prevents Further Infections & Inflammation
-Rich Cream Formula
-Natural Ingredients
-100% Satisfaction Guarantee
Which skin type is the Antifungal Cream good for?
✔ Normal
✔ Oily
✔ Combination
✔ Dry
✔ Sensitive
Caution:
For external use only.
Avoid direct contact with eyes.
If irritation occurs, discontinue use.
Keep out of reach of children.
Store in a cool, dark place.
Vegan friendly.
This vegan moisturizer will liquefy at 76 Degrees F but maintains the same benefits whether applying as a liquid or solid.