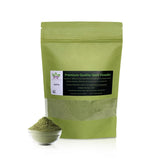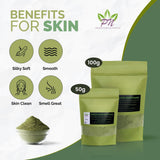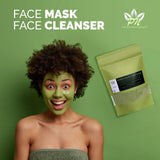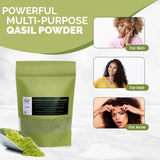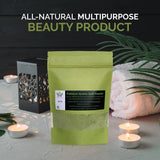 Qasil Leaf Powder Somalia's Beauty secret used for Skincare, Body, Hair & Face Mask made from a Natural Organic Gob tree Leaf (Ziziphus Jujube) (100g)
Qasil Powder Somalia Beauty Secret Face Mask is a unique beauty ingredient native to Somalia. It's sourced from the leaves of the gob tree that's crushed into a fine powder. For centuries, its been a staple beauty ingredient for Somali women due to its antibacterial properties and amazing nutrients. It can be used as a face cleanser, facemask, and even as a dark spot and Blackhead treatment. It's amazing for all skin types and can be used as a replacement for traditional soaps. Qasil is a natural face cleanser and is rich in antioxidant properties, and will help to transform the condition and the texture of the skin by gently exfoliating, leaving the skin renewed and supple without over-drying it. HOW TO USE QASIL POWDER : used for face masks and hair masks, Mix 1 teaspoon of Qasil powder with 3 to 5 teaspoons of water and apply to your desires area or Mix with water, honey or yogurt for best results. Leave on for 10 to 15 minutes for face and body! Rejuvenating and works on acne prone skin.
Features & details
FACE CLEANSER: Not only is it an amazing facemask, it also doubles as a cleanser that won't irritate your skin. Simply add a teaspoon of qasil powder into your palm with water, and mix this into a paste and apply on the skin in a circular motion to remove dirt and build up. It can be used as an everyday cleanser without drying out your skin. Qasil is an amazing humectant which will help to hydrate the skin and enhance your natural glow. Qasil powder good for face mask, skin cleanser or Body clay mud, Hair mask or DIY Hair shampoo.

PULL OUT IMPURITIES: It contains antibacterial properties, which helps to deeply cleanse the skin without stripping it of its natural oils. It will tighten pores to treat and prevent acne, leaving you with smooth skin. It's an amazing plant derived humectant that can help to treat dry and dehydrated skin. Qasil contains nutrients and antioxidants for a natural and youthful glow

COMPLETELY NATURAL: Are you causing harm to your facial skin with chemically loaded and costly products? Well, switch to organic qasil powder, it's 100% natural and pure, no chemicals, loaded with some of the finest ingredients, qasil powder is the finest natural care for your skin. Your skin is sure to thank you for it!

QASIL POWDER BENEFITS: One of the biggest benefits of using natural qasil powder as your facial skincare product, is that it works for all skin types, from dry and dull to oily, rough, or sensitive, you can feel free to use qasil powder with total confidence and enjoy the amazing benefits this natural powder has to offer.

NATURAL HAIR CARE: In addition to strengthening your hair from the root, this amazing powder adds shine and volume, hydrates your hair, and cleanses the scalp, qasil powder offers all-in-one care for your hair and scalp. You can feel free to create qasil powder shampoo or hair mask, there are some amazing recipes you can use for inspiration.